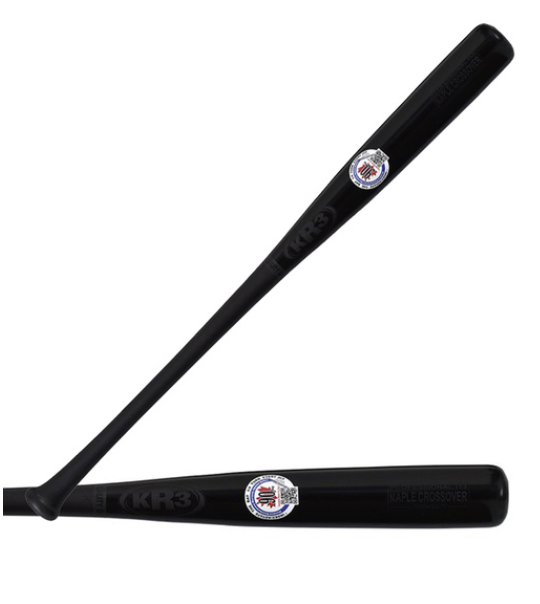 KR3
KR3 I13 Maple Crossover (-3)
---
MAPLE CROSSOVER
Prime Quality Maple billets that are Hand Split by North America's Best Quality Producers to the Highest baseball bat standards and from second growth forests being regenerated each year. Introduced in 2017, the Black on Black graphics continues to expand. With a Drop 4 Big Barrel Pro model in 2018 and 2 additional models launched in 2020 to support requests for more models. The Black on Black new Senior model in Drop 3 offers players longer lengths. Our Highest Quality Crossover models achieve Outstanding Power. Fiberglass biaxial sleeving applied with our Special Rock Resin Epoxy made Only for KR3 strengths the handle Offering Excellent Durability without Sacrificing Pop. Finest Quality Canadian Craftmanship with In-House lab testing to Ensure Players get the best Performance.
 Large Barrel Options. Drop 3, 4 and 5 Models. Maximum Bat Speed Without Sacrificing Barrel Size.
Pro I13 Drop 3 
Has all of the Maple Crossover Features as listed above. The Pro I13 Drop 3 Maple Crossover pattern features a standard knob and standard handle with a large barrel. Ideal for power hitters looking for a more top-heavy bat with a larger sweet spot. Designed for players who love the Maple Crossovers and want a longer length and Drop 3 option. 
Available in 31", 32", 33", 34"
Cupped to Drop 3
Max Bat Speed
Prime Maple
Hand Split
BBCOR
High Shock Resistance
An adult version of a Maple Crossover
Fibreglass Sleeving up to Barrel
Applied with KR3 Special Blend Rock Resin Epoxy
90-Day Warranty
Gloss Black Barrel with Black on Black Graphics
Matte Black Handle
1.950/.960/2.550
---
Share this Product
---
More from this collection